On June 18th, the Church of the Christ Hawk performed its first wedding ceremony in the state of Oklahoma. Hawkmaster Thomas Stambaugh is legally registered as an ordained minister in the State of Oklahoma to perform and certify these ceremonies.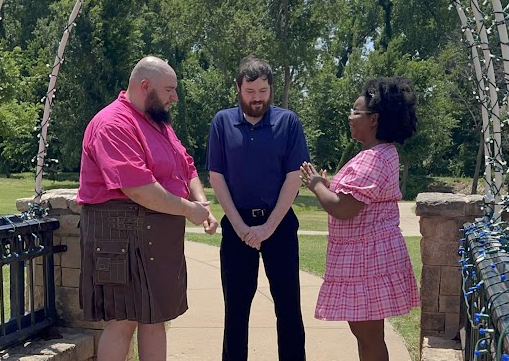 The first union in the Church
In the State of Oklahoma, a wedding must be ordained by either a judge or a member of a clergy. They also do not perform daily weddings at the court house.
We believe this is a garbage requirment, and love should not require someone of specialized nature to be certified. Of course, we perform ceremonies for members of the Church of the Christ Hawk, however if you are not a member of the Church but still need someone to perform a wedding for you, Hawkmaster Stambaugh is more than willing to help. The ceremony can be written by you and can include as much or as little religion in it as you desire.
The only requirments for a ceremony from Hawkmaster Stambaugh at no cost in the Oklahoma City metro are:
Both parties to be over 18 and not in high school
Both parties to not be legally married (divorced is fine)
Submit to a joint interview with the Hawkmaster prior to the ceremony
Other local laws and regulations may apply
If you do not live in the metro area, but still need someone religious to perform a ceremony for you in Oklahoma or nearby states, reach out anyway and we will see what we can arrange.
We perform weddings for any combination of genders and sexual orientations.
Contact thomas@christhawk.com